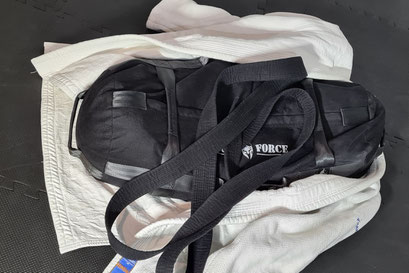 As already described in the previous parts, training with the sandbag offers reasons not to be underestimated for functional strength and conditioning training for martial arts and self-defence. 
Improved forearm and grip strength
Forearm strength helps you to better control your opponent's extremities, hold chokeholds with clothing or gi longer in combat, grip tighter or break the grips of others with ease.
Ever thought about putting a heavy sandbag in a jacket and then rowing bent over with it? ...not only for the training of Jiu-Jitsu and Judo a brutal attack on the specific strength for gripping clothes or a Gi.
Grip strength can be crucial in any kind of fight, whether it is a sporting duel on the mat, attempting to draw a weapon or having someone else grab your own weapon within a real confrontation.
---
"A chain is no stronger than its weakest link." (Sir Leslie Stephen)
---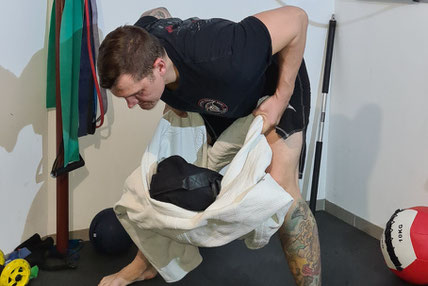 Full body workout
Most sandbag workouts are full-body workouts or very close to it. Especially if you consciously choose a sandbag with handles and perform, for example, lunges, upright rowing or clean and press. You will always use more than one muscle group and can combine exercises dynamically. Which ultimately means you train your whole body and perform better on the mat or in a real conflict situation. Choose specific programmes to increase your strength and conditioning.
Sandbags with handles are used by many athletes in conditioning because of their nature and weight.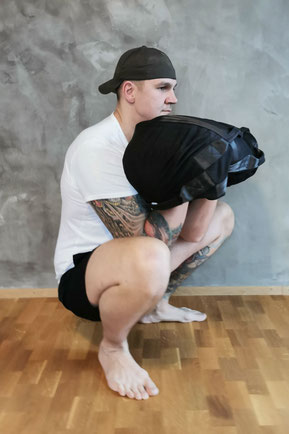 Functional strength training
Dumbbells and kettlebells are a fixed weight, which means they move within themselves.
It is much easier to carry a 20 kg dumbbell than a 20 kg sandbag. This is because the sandbag is constantly shifting in on itself and so its weight shifts during the execution of the exercise - just like our training partners or opponents in a fight. For example, when we are trying to escape a side mount check or lift our opponent into the air with a double leg takedown, our opponents are not dead weight. Instead, they move and change position, trying to escape and evade our control or attack - just like the sandbag.
Sandbags are ideal for improving your ground fighting positional work, just train your mount escape with a heavy bag on your hip or chest.
Sandbag training will help you get comfortable with a weight that moves in itself and will complement and enhance your regular training. 
Sandbags increase your core strength
When you want to throw a punch or set up a takedown, your entire body rotates. It is therefore important that you include functional core training in your training programme and rotating exercises such as lunges or overhead presses are definitely a good choice to improve your core strength.
Being able to land a hit is one thing, being able to land a hard hit is another.
---
"Physical fitness is not only one of the most important keys to a healthy body, it is the basis of dynamic and creative intellectual activity." (John F. Kennedy)
---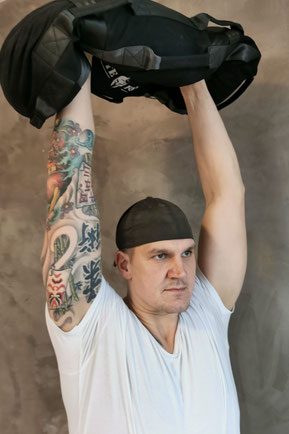 Increase your physical fitness 
Once you've done a minute of sandbag slams, squats, overhead presses or lunges, your heart rate will go through the roof. When you are physically fit, not only can you fight more efficiently, but you also make better decisions under pressure.
...not to mention that physical fitness will have a beneficial effect on your entire life.
With a sandbag you can perform a variety of movements and exercises.
But you need to recognise the added value of this piece of equipment and integrate it into your programme.
Even though you can do almost any exercise with a sandbag - especially with handles - it is sometimes advantageous to use other equipment, for example a barbell or a heavy kettlebell. 
If you are limited especially in times of the Covid 19 break, then the sandbag could definitely be your equipment of choice.
...and as always, by the way... You definitely look cooler in our shirts, girlies, hoodies or rashguards during training ;)