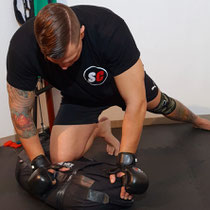 It is sometimes difficult enough to get martial artists or trainers of self-protection concepts to focus additionally on their strength and conditioning.
Especially under the current conditions caused by the Covid 19 pandemic, training in the usual environment is stagnating for almost all of us. Equipment, knowledge and motivation are lacking.
Similar to the mix of different hybrid systems required for today's physical part of self-protection (boxing, Muay Thai, wrestling, Jiu Jitsu, Luta Livre and more), it is equally important to take a balanced approach to one's fitness. Again, you should design your programme to train agility, endurance, strength, power, mobility and speed.
---
"Physical strength is the most important thing in life. This is true whether we want it to be or not." (Mark Rippetoe in Starting Strength)
---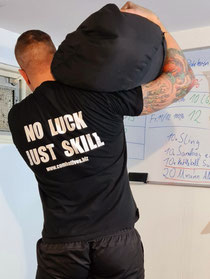 It is simply recommended to use strength and conditioning exercises that also have functional parallels to the movement patterns of one's self-protection concept or martial arts and also support them during the Covid 19 forced break.
The sandbag has been used by serious athletes for decades, yet it has struggled to move beyond being an alternative training option in strength and conditioning training or is ridiculed by dogmatic training supporters of other approaches for questionable reasons.
Yet it is easy to produce or obtain, easy to fill and offers a lot of options for advancing one's own strength and conditioning training, not only in our current situation.
Training with the sandbag is a resistance training that can be combined and supplemented with elements from our everyday self-protection training.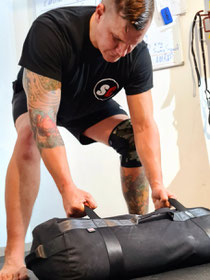 The American training expert Dan John, among others, writes in his book "The Hardstyle Kettlebell Challenge" that he starts with the basic human movement patterns as a kind of guide for appropriate programming.
Push
Pull
Hinge
Squat
Loaded Carries

and others
By "others" he means, for example, corrective exercises or movement patterns that are performed in the floor position or on the floor. In the local context, this can of course include ground-specific exercises to expand the individual training programme.
Depending on the size of the sandbag, the change between mount, sidemount and other positions can also be trained on it. Strikes to a sand-filled bag should only be incorporated if they can be executed flawlessly, as no expected absorption of the strike can take place here.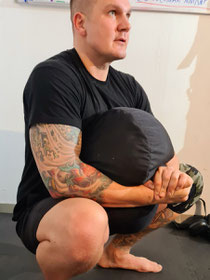 So basically you are using many of the same human movement patterns associated with traditional forms of exercise such as barbells and dumbbells. However, the sandbag also has a number of other advantages:
However, it can be incredibly difficult to work with, depending on its shape and weight. The sandbag is an awkward, uncomfortable load that makes you work and challenge specifically every single time you lift, throw or carry it.
While this means that you can't necessarily lift as much weight as with a dumbbell, in a way it is already equivalent to a "real" load - like an opponent's load.  Comparisons of the weight to be moved with a barbell and a sandbag should therefore be avoided.
However, the sandbag will also develop grip strength in a natural way, simply by trying to grip it correctly, lift it, carry it, pull it or even hold it. Especially the grips when carrying are similar to the familiar wrestling grips.
The sandbag is deformable and adapts to your own body shape. This makes it a great tool for carrying, sprinting, throwing and a range of partner exercises.
The sandbag can be used for training simulations, for example fighting on the ground, or integrated into a training complex with it. This is not possible with a barbell or kettlebell.
It is important to understand that the sandbag is not the magic bullet for one's own strength and conditioning training.
But properly implemented, it can generate physical progress for anyone involved in martial arts or self-defence concepts.
Like any form of resistance training, the Sandbag can be used to improve one's strength and conditioning, but with the added benefit that we can add interdisciplinary components. And this advantage is not to be underestimated when one is on one's own in the current lockdown and does not have numerous training devices and also sufficient training space.
...so what to wait for. Physical fitness is one of the interdisciplinary pillars of any self-protection training and should not be neglected in lockdown either!